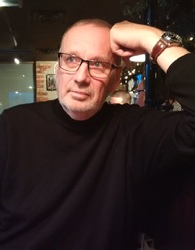 Peter McGarvey has been a magazine columnist, radio journalist, advertising copywriter, marketing and sales executive, and filmmaker.  He grew up in the Ontario towns of Orillia and Chatham and has made Toronto his home for most of his adult life.
Peter's novels include two series set in Michigan.  Featuring a small-town criminal investigator, the Molly Parsons Mysteries include Dark Sunset, Bloody Sunset, and Foggy Sunset.  The Rip & Wilma Hits — Hair Trigger and Double Tap — follow the adventures of a pair of improbable Detroit contract killers.  Peter's stand alone mystery Dark the Light, set in South Carolina in the 1920s, will be published soon.  He is currently working on a series of mysteries which will take place in a small Canadian town.
Be sure to check out Peter's Facebook Author Page.  You can also follow him on Twitter and Linked-In. Replying to emails is one of Peter's favorite pastimes, so give him a shout at PGM@PeterMcGarvey.com!
---
The Crime Fiction of Peter McGarvey